A New and Improved Online Banking Experience.
Cleaner design.
Park Community has been working hard to bring you a better online banking experience. We've cleaned up the site, reorganized the information and tools you rely on most, and made improvements to simplify the way you manage your account.
More secure.
Security is important. That's why we've beefed up our multifactor authentication to include a new "personal image" feature. Paired with hacker-resistant fraud protection, your online experience is safer than ever.
Customizable.
You now have the option to use the standard view or you can customize your online banking homepage. Simply click on "custom view" in the accounts tab to manage and organize your information the way you like it. That way, the things you care most about are front and center.
Fewer clicks.
When it comes to online banking, we know that it's important for you to get in and out quickly. With a more organized tab system and an overhauled bill pay site, you save time by clicking less. Check out the video below to learn more on One-Click Bill Pay.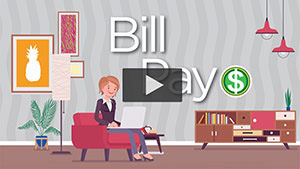 One site. One login.
If you use Bill Pay or have a Visa Credit Card, we have great news! With the new online banking, everything is fully integrated. No more pop ups. Plus– you only log in once to access it all. That's right, once you've logged in online banking, there's no need to log into your Visa account separately. It's all there and just a click away.

Quick look at new features:
Custom View allows you to personalize your experience
No more pop-ups allows you to navigate the site quickly
Add Memos to transfers within your account
Check Withdrawal option saves you a trip to the branch
Loan Payoff provides you with a quick estimate of your payoff for auto, personal, and recreational loans
Upgraded Bill Pay site offers one-click for most transactions, which saves you time
Transfer to Any Account saves you a trip to the branch by allowing you to set up transfers to any other Park Community account (some restrictions may apply)
Improved Check Ordering with additional design options
What you need to know:
All of your information, including eAlerts and Bill Pay, have transferred automatically.
The log in process is slightly different. You still will enter your username on the homepage. The only difference is you'll be taken to a new page to enter your password.
If you use a Personal Financial Management tool, like Quicken or Mint, click here for important instructions.
The first time you log in, you will be prompted to answer a new set of security questions and choose a "personal image." The personal image is displayed to protect you. If you recognize the image, you'll know it's safe to enter your password and login.
If you have questions, please contact our eBranch at 502.968.3681 or 800.626.2870.